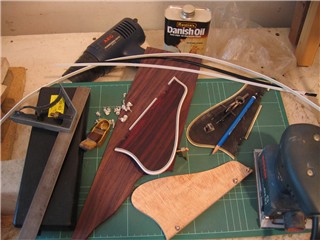 The Finger Rest was made for an Ibanez Jazz Auditorium guitar from 4mm rosewood. The original on right was too flimsy and allowed 'creaking & morse-code like tapping' to creep into the mix.

This 'solid' wood, edgebound plate solved the audible problem & provided a comfortable surface for the player to 'feel at home' whilst wizzin' up & down the fretboard without the previous noisy 'tapping & creaking'.

The lower plate was made to accommodate the router to create the rosewood shape for multi edge binding.

CLICK ON PICTURE TO CONTINUE